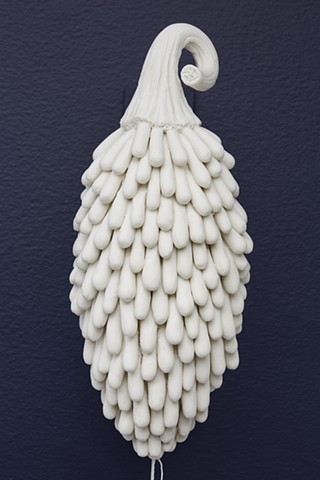 My primary materials are clay and glass. Recently, I began working with bronze combining forms derived from botanical and cellular imagery. My palette is heavily influenced by the colors found in nature.


ARTIST STATEMENT
My work is a hybrid of human cells and plant forms that share the pursuit of survival and beauty of natural form. Drawn to the succulents of my native Californian landscape, I am intrigued by the succulent's ability to survive in a harsh environment, yet produce colorful lush forms. I am drawn to the dichotomy of these plants that thrive in water-deprived environments yet, produce voluptuously plump leaves and tendrils.
My focus on biomorphic forms stems from my interest in the human encounter with disease. Disease is an experience that radically transforms life through its ability to force a discussion about human survival. Personal experience and microscopic slides of human tissue influenced my work. I reference organic grows to explore the relationship between health and disease and create textures that are inspired by the microscopic landscapes.
I aim to illuminate the precious balance of life and the beauty of the natural world, while revealing the temporary symbiotic relationship between health and malignant cells.
Mes matières premières sont l'argile et le verre. Récemment, j'ai commencé à travailler avec le bronze. Je combiner des formes dérivées de l'imagerie botanique et cellulaire. Ma palette est fortement influencée par les couleurs trouvées dans la nature, plus précisément en Floride.
DÉMARCHE ARTISTIQUE
Mon travail est un hybride de cellules humaines et des formes de plantes qui partagent la poursuite de la survie et la beauté de la forme naturelle. Attirée sur les plantes succulentes de mon paysage californien d'origine, je suis intriguée par la capacité de la succulente à survivre dans un environnement difficile, pourtant, elles produisent des formes colorées luxuriantes. Je suis attirée par la dichotomie de ces plantes qui poussent dans l'eau privée des environnements, produire des feuilles et des vrilles voluptueusement dodues. Mon accent sur des formes biomorphiques découle de mon intérêt pour la rencontre humaine de la maladie. La maladie est une expérience qui transforme radicalement la vie à travers sa capacité à forcer un débat sur la souffrance humaine et la survie. L'expérience personnelle et des lames de microscope de tissus humains ont influencé mon travail. J'utilise des références biologiques pour explorer la relation entre la santé et la maladie et créer des textures inspirées des paysages microscopiques. Mon but est d'éclairer le précieux équilibre de la vie et la beauté du monde naturel, tout en révélant la relation symbiotique temporaire entre la santé et les cellules malignes.